Our Products
GUILLOTINE STONE - CLADDING
The flat bedded characteristics of our sandstone makes it ideal for cladding and is increasingly specified by many architects and other clients. It is available in a range of different depths to suit your build design.
Our Guillotined stone can be used as a traditional mortar build or it can be used as a 'dry effect' build, where the mortar is back bedded.
---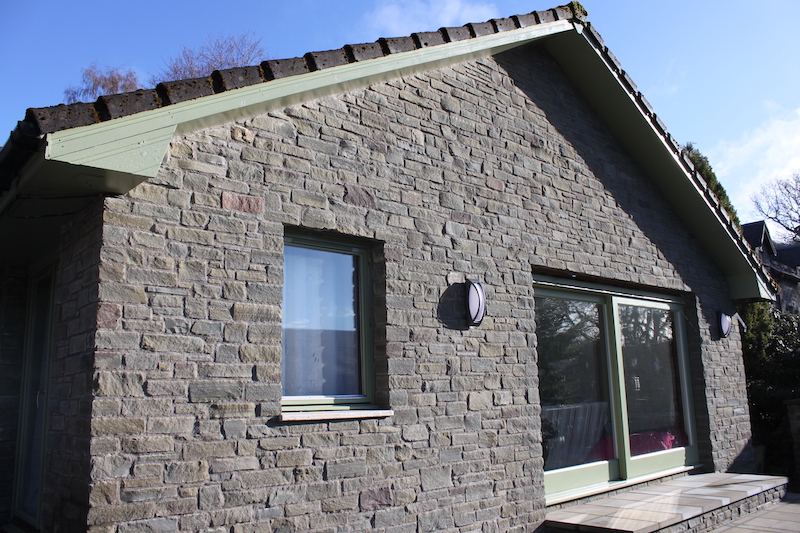 40mm CLADDING SLIP
40mm stone slips are an ideal solution for those looking to save time and money whilst at the same time using a Scottish natural product to produce the everlasting appeal that only natural stone can achieve.
Our 40mm stone slip is individual natural stone pieces that can be clad onto the façade of a building or a wall. The 40mm slip is cut from natural sandstone and once applied, gives the same effect as standard stone. It can be applied to either breeze block or a cement board. The 40mm stone is applied to this using an adhesive, and can be pointed or a dry effect finish.
The 40mm stone can be used on new build projects but is also ideal to give your building a facelift. It is ideal for internal use also, if you want to bring your stonework inside, and lends itself perfectly to fire places & feature walls.
---
FLAGSTONES
Flagstones were produced from Angus quarries and extensively used throughout the UK and further afield in the 19th and early 20th Centuries. At Denfind Stone, we are delighted to be continuing this legacy into the 21st Century.
Our flagstones can be finished with either a sawn (smooth) or a riven (natural) finish and will normally be produced with sawn edges. However, if you have any specific requirements please contact us to discuss your requirements.
---
DYKING STONE
Pitairlie Stone is naturally flat bedded and ideal for dry stone dykes. All dyking stone is handpicked to ensure the highest quality of varying dimensions and that it is a manageable size for handling. Once picked, it is bagged to ensure that it is delivered onto site as clean and dry as possible. Our dyking stone is supplied in 500kg bags.
We advise that your dyke is built by a competent and qualified dyker who is familiar with building a dry stone dyke with new stone.
---
COPING STONES
We offer different types of coping stone to compliment your walling project and these are sold by linear metre.
Half moon shaped dressed copes can be produced in a variety of widths, typically 250mm-450mm.
Flat copes with either a smooth or a riven finish.
---
SURECAV
We are the preferred Scottish supplier of SureCav which is a cavity spacer system. SureCav is a polypropylene panel that sits in the cavity and allows a stone outer skin to be built without the need for an additional block leaf.
It guarantees a clean 50mm, moisture free cavity that also arrests water penetration from wind driven rain in any exposed position and increases floor space by up to 5% adding value to the project and reducing costs when compared to using concrete backing blocks.
BBA Approved 04/4154